Herbs and Spices For Good Health
Posted On December 2, 2018
Spices have a unique ability to add flavor and nutritional value (adding the feeling of warmth and comfort) to any meal, without adding calories or salt. The health benefits are explosive! Try these recipes and see how enjoyable it is to eat  your way to health.  I firmly believe that you are what you eat! Try these healthy spice ideas and please let me know what you think!
1. Ginger
Ginger is among the healthiest and most delicious spices on the planet. Used in both sweet and savory dishes, ginger is a spice that can become one of your daily go to's.
When I'm feeling like I'm coming down with a cold or my stomach doesn't feel so good, I simmer a 1 inch piece of fresh sliced ginger partially covered in 2 cups of water for about 10 minutes, shutoff the heat and let it steep for as long as a few hours.  Strain into a cup, add some honey, lemon if you like, and sip it nice and hot. It helps with the sniffles and settles tummy issues. I usually make about a quart and keep it in the fridge. Just heat and sip! I add the honey when I'm ready to drink it. Make it really powerful and add a few slices of fresh turmeric.
Drinking ginger tea helps with respiratory ailments including asthma, coughs, and bronchitis.
Just to sum up some of the potent properties of ginger.  
 Ginger is a flowering plant that originated from China.
It belongs to the Zingiberaceae family, and is closely related to turmeric, cardomon and galangal. Ginger contains Gingerol, a substance with powerful anti-inflammatory and antioxidant properties.
There are some studies showing ginger to be effective at reducing symptoms of osteoarthritis, which is a very common health problem. This is due to ginger's anti inflammatory properties.
With all these great benefits, wouldn't it be smart to sneak a little bit of ginger into your daily diet? It's so yummy, it can't help but make you smile!
In the cold winter months what better soup to sip than  Carrot Ginger Butternut Squash Soup? Try to think of all the ways you can add ginger to your meals. Add a few slices of fresh ginger when making chicken stock, makes healthy soup!
Make your own pickled ginger. It's not just for sushi, you can use it in sandwiched, salads and as a noodle or rice bow topper!!!
Pickled Ginger
INGREDIENTS
4 ounces, weight Fresh Ginger Root, Peeled
1/2 cup Rice Vinegar
1/3 cup Granulated Sugar
2 tbsp water
1 teaspoon Kosher Salt
INSTRUCTIONS
Peel the ginger and slice into paper-thin strips with a mandoline slicer. Pack the ginger strips into a container with a tight lid, a ball jar works well.
Pour the vinegar, sugar, water and salt into a small saucepan. Bring the mixture to a boil, until dissolved. Pour the liquid over the ginger strips while hot. Place the lid on the container. Let cool and place in the refrigerator.
Refrigerate the pickled ginger for at least 2 hours, and up to 2 days. The longer the better!
Use for your own homemade sushi, in salads for a zing, or in sandwiches. Chop finely, add to fish sauce with some pickling juice, and sliced chile peppers for a Thai dip for dumplings. Thin out with a little water if too strong.
Carrot Ginger Squash Soup
Ingredients
1 cup chopped carrots
1 cup chopped and peeled butternut

squash
1/2 chopped and peeled onion
2 cloves minces garlic
1 tablespoon coconut oil
1 inch cube fresh ginger root
2 cups vegetable or chicken broth
to taste sea salt
to taste freshly ground black pepper
dash of parsley
Directions
1. Heat coconut oil. Saute carrots, butternut squash, onion and garlic with until soft, (about 10 minutes).
2. Add remaining ingredients bring to a boil, lower heat and simmer about 15 minutes until vege's are really soft. Let cool a little before blending
3. Place all ingredients in a blender.
4. Blend until mixed well.
5. Add back to pot and heat to desired temperature. Taste for seasonings and serve with sprinkle of parsley. 
Make it special with a dollop of sour cream or pesto, or a sprinkle of cinnamon. For texture top with croutons, crunchy chickpeas, pumpkin, sunflower seeds or sliced almonds, or chopped apple or pear! Use your imagination!
2. Cinnamon
Cinnamon is so good for you, it's a wonder it's so delicious too!
Cinnamon is delicious year-round, not just in the fall. You can add it to just about any baked good and make it better. Try sprinkling some in your next mug of hot chocolate, it'll take you to Mexico!
Cinnamaldehyde, the compound found in cinnamon that gives it its flavor and  smell is believed to have antimicrobial and antifungal properties in traditional Chinese medicine.
Cinnamon is loaded with antioxidants! Antioxidants protect the body from oxidative stress caused by free radicals.
inflammation is a  natural process of the body, but when chronic, can be very damaging, which is when cinnamon can help!
Cinnamon has been shown to also lower your risk for heart disease as well as improving insulin sensitivity. Insulin is a main hormone in energy use and metabolism, insensitivity to insulin leads to type 2 diabetes, so it's good to increase your sensitivity to it!
It  can help fight infections, tooth decay, and even bad breath!
Well, after all that, if you haven't jumped on the cinnamon wagon yet, what are you waiting for?
I  just crave the flavor of cinnamon, thus it gets one of my top spice recommendations because of its versatility, warmth and possible health benefits.
 You can add an exotic flair to your afternoon coffee, make a pumpkin smoothie,  sprinkle it on oatmeal, roasted root veggies and as a topper for creamed soup. It's so sweet, you won't need to use as much sugar.
Try these snack bites for on the go energy!
Snickerdoodle Protein Bites
Ingredients
2 scoops  Plant Based Protein Powder*
¼ Honey, Maple Syrup or Agave syrup
¼ cup Almond Butter (or other nut butter)
Dash of Vanilla Extract and Sea Salt
Cinnamon for sprinkling on after you roll your bites!
Instructions
Put sweetener and almond butter in small microwaveable dish and heat for 20 seconds.
Put dry ingredients in another bowl and mix.
Pour in honey and almond butter mixture. Add in yogurt and mix well.
Roll into balls, sprinkle with additional cinnamon and refrigerate until set up. About 1-2 hours
Different protein powders absorb liquid differently, so you might need to add a  little more protein powder to get the right consistency, depending on how your protein powder absorbs. Add more sweetener if not sweet enough for you.
**Whey protein powders will not form a dense ball. Not recommended.
No Recipe Recipe
Sweet potatoes lend themselves to most of these healthy spices. Cut in chunks and roast them with extra virgin olive oil, turmeric, cinnamon, ginger and cayenne pepper.  One, or a mixture of all! Season with salt and pepper for a truly delicious, healthy side dish. Would also be good for breakfast next to eggs, think of it as a twist on home fries! This makes a great side dish to go with pork, chicken or as a topping for salad!
3. Turmeric
Turmeric contains the compound curcumin, which research indicates is a powerful antioxidant and a great way to fight inflammation in the body. Used in traditional Eastern medicine for thousands of years, why not incorporate this healthy spice into your daily diet?
Turmeric can be a delightful addition to your daily regimen by simply simmering slices of turmeric root with ginger root in water, strain, add honey or other sweetener and sip it hot. Especially if you are a teacher or health care provider, you need this concoction to keep your immunity up in the cold months. Add ginger as mentioned previously.
Be adventurous and swap out your afternoon coffee for a turmeric latte! This recipe makes two servings.
2 cups milk (coconut milk, almond milk or cashew milk – turmeric is fat-soluble and absorbs into the body better with fats)
1 tsp turmeric powder.
1/4 tsp ground cinnamon.
1/8 tsp ground ginger.
1 tsp vanilla extract. (optional)
2-3 tsp raw honey (sweeten to taste)
pinch ground black pepper.
Heat all ingredients over medium heat in a saucepan until hot. Stir well, pour and sip! Add a sprinkle of cinnamon over the top if you like!
Don't forget the black pepper, it aids in the bioavailability of your body to absorb the good stuff from the tumeric.
This next recipe incorporates four of the healthy spices I've included in this post, and it is delicious! It's also very easy!
Chicken Shawarma
This is homemade chicken shawarma made simply in the oven.
1 lb each boneless, skinless chicken breasts and thighs
1/4 cup +2

 

tbsp

 

extra virgin olive oil

 

divided
Nonstick cooking oil spray
Cut the chicken into large, thick strips.
In a small bowl, whisk together 1/4 cup olive oil, the spices, 3/4 tsp salt and 1/4 tsp black pepper (if you are salt sensitive, use 1/2 tsp of salt). Pour the spice marinade over the chicken pieces. Stir with a spoon till all the chicken pieces are evenly coated in the marinade. Marinate in a ziploc bag for least one hour.
Preheat oven to 400 degrees F. Spray the baking sheet with nonstick cooking oil. Place the chicken pieces on the sheet, evenly spaced.
Let it roast for about 15 minutes until cooked through, turning the chicken pieces once with tongs halfway through cooking.
Serve in a pita with tomato, cucumber salad and tahini sauce.
Tahini Sauce
Ingredients
⅓ cup tahini, make sure to stir well
3 garlic cloves minced very finely
4 to 6 tablespoons warm water
1 tablespoon chopped fresh parsley
In a small bowl, whisk tahini, garlic, lemon juice, olive oil. cumin, and cayenne pepper,and the salt in a bowl until well combined. The mixture will get very thick, do not worry we will thin it out.
Next, add the  water, a tablespoon at a time. Stirring until you reach your desired consistency. Should be like yogurt.
Add the water, a tablespoon at a time and whisking until desired consistency is reached.
Taste for seasoning and adjust with additional salt or lemon juice.
Store covered in the refrigerator
4. Cayenne
This spice has quite the kick in flavor and in the health department!
The compound, capsaicin, has been linked to lower blood pressure and could even provide relief from arthritis pain.
 Studies show capsaicin bumps up the body's metabolic rate, helping you burn slightly more calories. It may also stimulate brain chemicals that help tame hunger.
 Add a sprinkle  to hot water with lemon, ginger and honey as an amazing winter immunity elixir. And you can always sprinkle it over  roasted winter vegetables, eggs, chicken or fish for a huge blast of flavor.
Try this for dinner tonight!
Ingredients
12 ounces dry fettuccine pasta
2 red bell peppers, julienned
3 cloves garlic, minced
 1 tbsp olive oil
1/4 -3/4 teaspoon cayenne pepper, add as much as you like
1 cup shredded cooked chicken
Sauce
1 cup reduced fat sour cream
3/4 cup chicken broth
3/4 cup grated Parmesan cheese
salt and pepper to taste
Directions
Bring a large pot of lightly salted water to a boil. Add pasta and cook as directed on package or until al dente; drain.
While pasta is cooking, heat oil in a large skillet, add olive oil and saute red bell peppers, garlic and cayenne pepper over medium heat for about 2-3 minutes or until peppers begin to soften. Be careful not to burn garlic.
Stir in  broth and chicken; simmer uncovered for 5 minutes to reduce. Remove from heat. Add sour cream and cheese. Stir over low heat until cheese melts.
Add hot pasta to sauce and season with salt and pepper to taste. Add a sprinkle of parmesan cheese and chopped parsley before serving. Enjoy!
Can be made vegetarian, leave out the chicken. Substitute chick peas for a protein, or more vege's. Use up odds and end in your fridge. Everything's good! Serve with a green salad.
"These spicy nuts were inspired by ones sold by street vendors across Mexico. If you can only find salted peanuts, omit the added salt. Add the maximum amount of cayenne pepper if you want an extra hit of spice."
Ingredients
1/3 cup lime juice
zest of one lime (optional)
6 tablespoons chili powder
4 teaspoons kosher or sea salt

½-1 teaspoon cayenne pepper
6 cups unsalted raw peanuts
Directions
1. Position racks in the upper and lower thirds of oven; preheat to 250°F.
2. Whisk lime juice, zest, chili powder, salt and cayenne in a large bowl. Add peanuts; toss to coat. Divide between 2 large rimmed baking sheets; spread in an even layer.
3. Bake, stirring every 15 minutes, until dry, about 45 minutes. Let cool completely. Store in an airtight container.
Make Ahead Tip: Store in an airtight container for up to 3 weeks. Line your baking sheets with parchment for easy clean up!
5. Peppermint

Mint can boost your memory, try mint tea for an afternoon refresher, or better yet, have a cup of mint and chamomile tea before bed. It's relaxing and will help you sleep! Mint has also been shown to help curb cravings.
There are plenty of reasons to love mint, beyond the icy cool flavor. Here are four unique and somewhat surprising health benefits to this often overlooked herb.
'Tis the season for all things peppermint—whether it's hot cocoa spiked with minty flavor, candy canes being hung on a tree or smashed on top of chocolate bark like in this Peppermint Mocha Chocolate Bark recipe.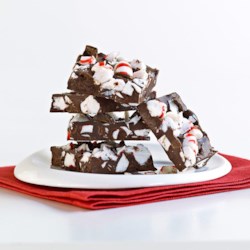 Peppermint Mocha Chocolate Bark
 EatingWell Test Kitchen
"With just a few simple steps, you can transform plain chocolate into a divine treat with this chocolate bark recipe. We stir chopped peppermint candies and chocolate-covered espresso beans into this chocolate bark, which is perfect for a gift. "
Ingredients
2 cups chopped bittersweet or semisweet chocolate (or chips)
30 peppermint candies, coarsely chopped

¼ cup chocolate-covered espresso beans, coarsely chopped
Directions
1. Line a rimmed baking sheet with foil. (Take care to avoid wrinkles.)
2. Place chocolate in a medium microwave-safe bowl; microwave on Medium for 1 minute. Stir, then continue microwaving on Medium, stirring every 20 seconds, until melted. (Alternatively, place in the top of a double boiler over hot, but not boiling, water. Stir until melted.)
3. Combine candy and espresso beans in a small bowl. Stir half of the mixture into the melted chocolate. Scrape the chocolate onto the foil and spread it into a 9-inch square. Sprinkle with the remaining candy mixture, pressing any large bits in. Refrigerate until set, about 30 minutes.
4. Transfer the bark and foil to a cutting board. Use a sharp knife to cut into 1½-inch pieces.
Make Ahead Tip: Refrigerate airtight for up to 2 weeks.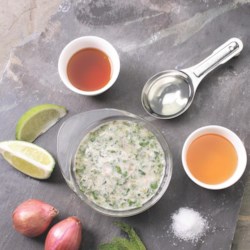 Mojito Marinade
 EatingWell Test Kitchen
A mojito is a Cuban cocktail,  made with rum, lime juice and fresh mint muddled with sugar at the bottom of a tall glass.  Turn this refreshing idea into a brightly flavored marinade that works well with any light meat or seafood. Use on: Extra-firm tofu, shrimp, scallops, chicken, pork.
Ingredients
2 shallots, peeled and trimmed
¼ cup coarsely chopped fresh mint
¼ cup rum
1 tablespoon freshly grated lime zest

½ cup lime juice
3 tablespoons honey
2 tablespoons canola oil
1 tablespoon kosher salt
Directions
1. Place shallots, mint, rum, lime zest, lime juice, honey, oil and salt in a food processor. Pulse until the shallots are finely chopped. Pour the marinade into a shallow baking dish or a large ziploc  bag for marinating 1 to 2 pounds (4 to 8 servings) of your chosen protein.
Grill or cook as desired.
I hope this livens up your curiosity to try new things. Come back often for more exciting spicy ideas! Leave me a message if you have any questions or would like information on a particular spice or herb. I love doing research for you! Thanks!